Har du truckcertifikat? Vi søger en dygtig vikar til vores lager.
Vi beskæftiger os med to forskellige områder; produktion og distribution af emballage til den industrielle sektor, og engangsartikler til den industrielle, offentlige og private sektor. Vi er kendt for høj kvalitet, hvor bæredygtighed, GMP og hurtig og effektiv service er en selvfølge.
Du kommer til at have følgende arbejdsopgaver:
Tømning af container
Plukke og lægge varer på lager vha. en håndscanner
Losning og læsning af pallevarer
Pakkeudlevering til GLS
Vi forventer derudover at du er ansvarsbevidst og serviceminded.
Send din ansøgning samt CV til ae@gleco.dk.
Ansøgningsfristen er hurtigst muligt. Vi glæder os til at høre fra dig.
Hvis du har spørgsmål til stillingen, kan du kontakte: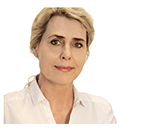 Anne Glæsel
CEO
+45 4816 5302
+45 2218 5302
ae@gleco.dk
Hold dig opdateret med nyheder og følg os på LinkedIn.